Are you planning a trip from Palm Beach to Miami and wondering about the transportation options available? This comprehensive guide aims to make your travel experience seamless, offering valuable insights into various transportation modes such as driving, public transportation, rideshares, shuttles, and more. 
Whether you're seeking convenience, affordability, or a balance of both, explore the array of transportation options to help you weigh your choices to reach Miami from Palm Beach with ease and peace of mind. 
Reserve a ride from Palm Beach to Miami today.
From Palm Beach to Miami by private car service
When it comes to traveling from Palm Beach to Miami, opting for a private car service offers comfort, convenience, and flexibility. Whether you're heading to the bustling city for business or pleasure, this mode of transportation ensures a personalized and stress-free journey. 
The exact duration of the trip depends on traffic conditions, but typically it takes around one hour and fifteen minutes to two hours. The distance between Palm Beach and Miami is approximately 75 miles.
From Palm Beach to Miami by rideshare
Traveling from Palm Beach to Miami by rideshare services like Uber or Lyft is a popular and cost-effective option. You can easily book a ride through the respective app on your smartphone.
From Palm Beach to Miami by bus
Traveling from Palm Beach to Miami by bus is a convenient and affordable option for those who prefer public transportation. The main bus company operating this route is Greyhound, which offers regular daily service between the two cities.
From Palm Beach to Miami by plane
Traveling from Palm Beach to Miami by plane is the quickest and most convenient option. Both commercial airlines and private charters provide regular flights between Palm Beach International Airport (PBI) and Miami International Airport (MIA). The journey usually takes around 30 minutes, depending on flight schedules and weather conditions. It's advised to check with the individual airlines for specific flight times and availability.
From Palm Beach to Miami by train
Traveling from Palm Beach to Miami by train is possible through the Brightline service, which offers high-speed rail transportation between the two cities. The Brightline trains operate multiple times daily and provide a comfortable and efficient journey. The journey typically takes around one hour.
From Palm Beach to Miami by boat
Traveling from Palm Beach to Miami by boat is an option for those who prefer a scenic and leisurely journey. Various boat services are available, including chartered yachts, water taxis, and ferry companies.
One popular option is the Bimini Fast Ferry, which operates daily trips from the Port of Palm Beach to Port Miami. The journey takes approximately two hours and offers beautiful views of the coastline.
Additionally, some private yacht charters can provide personalized transportation between Palm Beach and Miami. Prices may vary depending on the size of the vessel and specific requirements.
From Palm Beach to Miami by helicopter
Traveling from Palm Beach to Miami by helicopter is a luxurious and efficient option for those who want to enjoy stunning aerial views and save time on their journey.
Helicopter charter services such as Blade or other local operators offer private helicopter transfers between the two cities. The exact travel time can vary depending on factors like weather conditions, but it typically takes around 30-40 minutes.
Pros and cons of each transportation option
When deciding which transportation option is best, it is beneficial to consider the pros and cons of each one. 
Private car service:
Pros:

Comfortable, convenient, customizable, no stops or transfers required, and privacy

Cons:

Can be expensive depending on the service provider and travel distance and vulnerable to traffic delays
Rideshare (Uber, Lyft):
Pros:

Easy to book through an app and available 24/7

Cons:

Do not get to select your vehicle, availability may vary on the time of day, and prices can also fluctuate
Bus:
Pros:

Cost-effective option with regularly scheduled service between the cities

Cons:

Limited flexibility in terms of departure times and routes taken with the potential for congestion and traffic delays
Plane: 
Pros:

Quickest travel option, minimal hassle and stress, convenient departure and arrival times, and no worries about traffic or road conditions

Cons:

Can be more expensive compared to other options, may require advance booking, have to arrive an hour or two before departure, and might encounter delays due to weather or air traffic congestion
Train:
Pros:

Scenic journey, comfortable seating, and minimal traffic concerns

Cons:

Schedules and availability of train services can vary compared to other modes of transportation
Boat:
Pros:

Enjoyable and scenic journey with waterfront views, opportunity for relaxation onboard, and flexibility in choosing private yacht charters

Cons:

Availability of boat services can vary depending on the season or weather conditions, with longer travel time than other options
Helicopter:
Pros:

Helicopters are faster than ground transportation options, provide scenic views of the coastline, and avoid traffic congestion

Cons:

A private helicopter charter can be expensive, advanced booking is often required, and they have limited luggage capacity
Which travel option from Palm Beach to Miami is the best?
The best travel option from Palm Beach to Miami depends on your specific preferences and requirements. Some factors to consider include:
If you prioritize convenience, speed and have a higher budget, traveling by plane, helicopter, or private car service is the best option for you

If cost is a primary concern, taking a bus or rideshare service like Uber or Lyft can be more affordable

For those seeking a relaxing and scenic journey while avoiding traffic congestion, traveling by train or boat might be the most enjoyable option

If you prefer ecological means of transportation with minimal environmental impact, private cars, boats, helicopters, and trains generally produce fewer emissions compared to buses or planes
It is essential to weigh these factors along with personal preferences for comfort, cost-effectiveness, and time constraints to determine the best travel option from Palm Beach to Miami for your specific needs.
What are some perks of using a private car service? 
Private car service can be considered the best choice for traveling from Palm Beach to Miami when traveling by chartered yacht, helicopter, or airplane is not an option because of the added perks you gain, such as:
Convenience:

Private car services offer door-to-door transportation, eliminating the need to navigate through multiple modes of transport or deal with transfers and stops

Comfort:

Private cars provide a more comfortable and

luxurious travel experience

than public transportation options like buses or trains

Flexibility:

With private car service, you have the flexibility to choose your preferred pickup time and location, making it convenient for personalized travel plans

Efficiency:

Private car services generally take the most direct and fastest routes to reach your destination, reducing travel time and potential delays due to traffic congestion

Privacy:

If you value privacy, a private car service ensures you do not have to share your ride with strangers, providing a more secluded and personalized travel experience

Privacy:

Private car services employ professional drivers knowledgeable about the best routes and can ensure a safe and comfortable journey from Palm Beach to Miami

Personalized experience:

Private car services allow you to customize your travel experiences, such as selecting the type of vehicle that suits your needs or requesting additional amenities like Wi-Fi or refreshments

Work or relax:

You can use the travel time in a private car service to catch up on work, make phone calls, or simply relax without the distractions often found in public transportation options
Why choose Presidential Limo for Palm Beach to Miami transportation?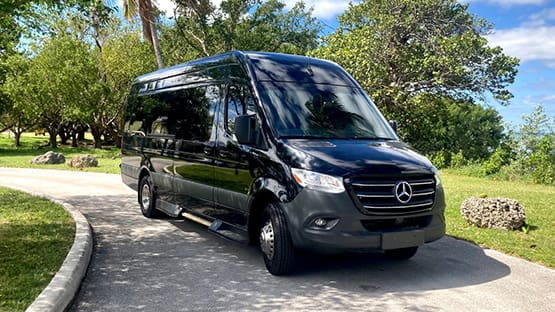 Presidential Limo is a luxury transportation company that offers private car service for Palm Beach to Miami transportation. Here are some reasons why you might choose Presidential Limo:
Luxury: Presidential Limo provides high-quality vehicles with luxurious interiors, ensuring a comfortable and elegant travel experience
Professional tuxedoed chauffeurs:

With Presidential Limo, you can expect professional and experienced chauffeurs who prioritize your safety and customer satisfaction

Customization:

We allow customization options, like choosing a preferred driver, cold beverages, vehicle selection, multiple stops, and more

Eco-friendly luxury vehicles:

Presidential Limo offers eco-friendly vehicle options, like the

Tesla Model Y

, prioritizing sustainability while providing a luxury travel experience

Timeliness and reliability:

Presidential Limo values punctuality and strives to provide on-time pickups and arrivals, minimizing the risk of delays

Wide range of services:

Besides Palm Beach to Miami transportation, Presidential Limo offers various services such as airport transfers, cruise port transportation, corporate transportation, event transportation, and more

Customer service:

Providing excellent customer service is a priority for Presidential Limo. Their dedicated staff is available to assist you with any inquiries or special requests you may have.

Technology:

Presidential Limo utilizes advanced technology for seamless booking and tracking of your journey, ensuring efficiency and transparency throughout the process

Round-trip options:

We also offer round-trip options, allowing you to book your return journey conveniently while ensuring a consistent level of service
If you prioritize comfort, luxury, and personalized service for your Palm Beach to Miami transportation needs, Presidential Limo is the perfect choice. We also offer private car service from Palm Beach to Fort Lauderdale.
Have questions or want to book your Palm Beach to Miami car service? Contact us today. 
Sources:
Things to Do in Miami. (2023).