Car Service in Miami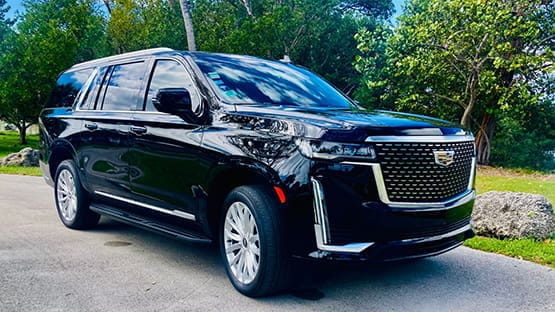 Welcome to Presidential Limo, the premier car service in Miami. Whether you're in need of business transportation or planning a special event, we've got you covered. Choosing our private car service will exceed your expectations in terms of luxury, safety, reliability, convenience, and comfort.
Ready to experience top-of-the-line luxury transportation in Miami? R
eserve a ride today with Presidential Limo.
Why hire a car service in Miami?
Business car service
When it comes to business travel, we understand how important it is to be punctual and protect your professional image. Whether you're a local or just visiting, booking our car service will help you achieve both.
Airport Transportation
As far as air travel, if you're traveling to or from Miami Executive Airport or Miami International Airport, our experienced drivers offer a smooth and efficient ride. Our service allows you to focus on your business at hand rather than deal with the stress of getting where you're going on time.
Event car service
Planning a special event? Our car service is the perfect way to make your occasion unforgettable. Whether you're entertaining guests, enjoying a night on the town, or simply traveling for fun, we offer only the best transportation services. We guarantee a first-class experience for everyone involved.
Entertaining guests
Hosting important clients, friends, or family can become a more professional and enjoyable experience with our black car service. Book a Tesla, Cadillac, Lincoln, or other luxury vehicle to add a touch of class to your special occasion.
Night on the town
Imagine the delight on your guest's or date's face as they are greeted by one of our professional chauffeurs, ready to whisk them out for a night on the town. Our fleet of meticulously maintained cars ensures a comfortable and stylish experience for everyone.
We understand that every event is unique, and we are dedicated to creating unforgettable experiences for you and your guests. With our impeccable service, attention to detail, and commitment to excellence, we strive to exceed your expectations and leave a lasting impression.
Traveling for fun
Embarking on a cruise or getting to the airport can be a stressful start to a joyful trip. If you're traveling to or from Miami International Airport or the Port of Miami Cruise Ship Terminal, look to Presidential Limo to get you where you need to be. We provide seamless transportation services to these key travel hubs to help you start or finish your trip with a positive experience. 
Why Presidential's car service?
You may be wondering why you should choose Presidential's car service over the others, and the answer is simple: we are committed to providing the highest level of excellence in every part of our service. From our dedication to safety and reliability to our luxurious fleet of vehicles and professional drivers, we go above and beyond to ensure your satisfaction. When you choose Presidential Limo, you are choosing a truly elevated and extraordinary transportation experience.
Safety
At Presidential Limo, your safety is our top priority. Our fleet of luxury cars is continuously maintained to the highest standards, and our professional chauffeurs undergo rigorous training to ensure your well-being throughout the entire experience.
Reliability
We understand the importance of being on time for both business travelers and those rushing to catch a flight. With our car service, you can rely on us to be punctual, providing you with peace of mind and a stress-free travel experience.
Convenience
Booking our car service is simple and hassle-free. Our user-friendly online platform allows you to reserve your vehicle with ease. From the moment you make your reservation until you reach your destination, we strive to provide a convenient and worry-free experience.
Comfort
Indulge in the comfort of our meticulous luxury fleet. Each vehicle is equipped with climate control and state-of-the-art amenities to ensure an enjoyable ride.
Professional image
Arrive in style and make a lasting impression with Presidential Limo. Our professional chauffeurs and immaculate luxury cars will enhance your professional image and leave a positive impression on your clients, friends, and colleagues.
Our fleet
Luxury cars
At Presidential Limo, we take pride in offering a large fleet of luxury cars to meet your expectations for comfort and elegance. Our vehicles are selected with care to provide you with a premier transportation experience.
Each vehicle in our fleet is equipped with comfort seating, the latest technology, and top-of-the-line amenities to ensure your journey is both enjoyable and stylish.
From elegant sedans to spacious SUVs, we are sure to have the perfect vehicle to accommodate your needs in any situation.
Eco-friendly
Each car in our fleet embodies our commitment to eco-friendly transportation. We prioritize sustainability by incorporating eco-friendly models into our fleet. We believe in contributing to a greener future without compromising on luxury.
Book Miami's premier car service today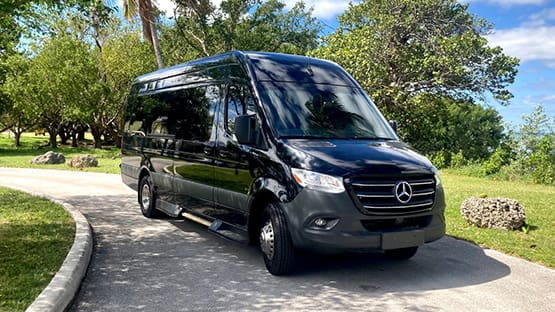 Experience luxury and professionalism by booking Miami's premier car service. No matter what your reason for travel, our commitment to safety, reliability, convenience, comfort, and a professional image ensures that you have the very best transportation experience available. Reserve your ride today and elevate your travel experience.
Discover a new level of convenience and worry-free booking.
Reserve a ride today
with Presidential Limo.
Sources: