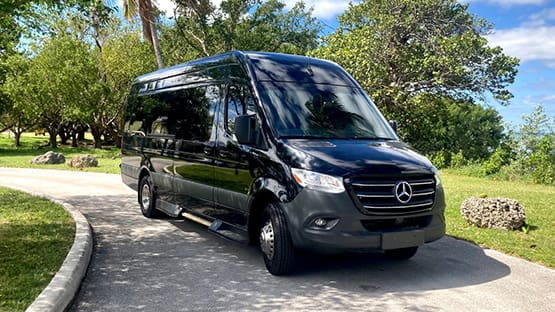 Explore the colorful city of Miami in absolute comfort and luxury when you book your group travel reservation with Presidential Worldwide Luxury Transportation. Our team is proud to offer top-quality service and a beautiful fleet of some of the most luxurious and premier quality sedans, SUVs, shuttle vans, and more. Reserve a ride today!
Group transportation options in Miami 
As you travel with your group throughout Miami, you'll come across several different transportation options. Below, we've got some of the most popular, affordable, and free options to go with. Read on to see which group transportation works best for different parts of your trip. 
Shuttle buses 
Transportation costs don't have to be expensive if you're traveling with a group. Explore the beautiful city of Miami on a shuttle bus and experience flexibility, convenience, and comfort as you travel between locations such as the airport, hotel, or even a fancy evening out on the town. 
Shuttle vans 
Spacious shuttle vans offer the same affordability and convenience as a shuttle bus but are designed to accommodate much smaller groups. This is the perfect choice if you need transportation for more than just airport and hotel shuttles. The compact size of shuttle vans allows you and your group to move around town easily. If you're planning a trip and your adventure calls for an upscale evening out, contact Presidential to learn more about our premier quality shuttle van services. 
Stretch limos
Venture out in absolute class and comfort in a stretch limo. This intimate style, upscale transportation option is perfect for a romantic evening out or a big celebration with your group. 
SUVs
Whether you rent one out yourself or hire a driver, an SUV is ideal for everyday transportation when you're venturing around Miami. Depending on the model you opt for, you can comfortably seat anywhere from five to eight passengers all while having full control over where you go and when. Presidential has got you governed with the premium quality SUVs experience you need from the brands you want. Get in touch today and explore our available fleet. 
Ferry 
Charter the gulf like a true tourist when you book a ride on a ferry. Ferries are convenient options for traveling over short bodies of water. Plus, they offer a fun experience that you don't always get the chance to enjoy. If the opportunity pops up to book a trip on a ferry, you should certainly take it (that is if you want tot to enjoy a bit of adventure in your day).
Metrobus 
With a bustling city as lively as Miami, metro buses are the perfect transportation option for visitors wanting that local feel. As a form of public transportation, metro buses can get you where you need to go at an incredibly cheap price. Just make sure to keep an eye on those timetables so that you don't miss your bus! 
Metro mover 
Depending on your travel experience, you may or may not be familiar with a metro mover. In Miami, the metro mover is a free mass transit automated people mover that closely resembles a train, but operates in a manner that is efficient for city living. Whether you're hopping around neighborhoods, or exploring Miami's most popular destinations, the metro mover is a great transportation option for you and your group. 
Metro rail 
Similar to a metro mover, the metro rail is a heavy rail rapid transit system that serves the greater Miami-Dade County area. Get where you need to go in a breeze when you incorporate the metro rail in your transportation itinerary. 
Tri-Rail 
Florida's Tri-Rail is a commuter rail line that serves the cities of West Palm Beach, Fort Lauderdale, and Miami. The rail gets its name because it connects these three counties, and enables convenient and quick transport for commuters and tourists.
Trolleys 
Kick back, relax, and enjoy the allure of Florida when you plan a portion of your trip on a trolley. Operating 15 hours a day, 7 days a week, Miami's citywide free trolley allows you to explore the town without having to worry about the hassle of transportation costs, time, or traffic. Booking a trip on the trolley is one of the best ways to experience this vibrant town. 
Water taxis
Navigate South Florida's waterways when you book a water taxi. Much like your typical Uber or Lyft, a water taxi can get you where you need to go and typically caters to group sizes ranging from singletons to upwards of 50 guests. Skip the traffic and hop on a water taxi to enjoy some of the best beaches in Miami. 
Why you should hire Presidential's group transportation in Miami 
Presidential's group transportation in Miami is proud to be one of the leading luxury transportation providers in the Miami area. Why work with our team? While we prefer our quality service to speak for itself, below are just some of the common reasons our clients turn to us time and time again. 
High safety standards 
Presidential's group transportation in Miami has only one thing we value more than luxury transportation — safety. We are proud to be a leading luxury transportation provider in Miami and Nevada, offering the highest degree of safety standards, procedures, and policies. 
Our team has proudly established a reputation of excellence, reliability, safety, and respect for over 70 years. From our vehicles to our highly trained and certified staff, we're committed to delivering top-quality services and the latest safety protocols for all our clients and their loved ones.
Reliability
You won't have to question your transportation needs when you book your reservation with Presidential. Our team is committed to offering reliable, dependable service and you can count on our quality service from pick up to drop off and every time in between. 
Time efficiency
We understand the importance of timeliness and we value the time and energy of all our clients. Our streamlined procedures allow us to deliver time-efficient transportation services consistently. Whether your plane touches early in the morning, or you need luxury transportation late in the evening, our team has got you covered. 
Comfort and luxury
Expect only the best when you work with our team. We are committed to ensuring you experience the utmost comfort and luxury when you reserve a trip. Expect comforts including complimentary champagne, complimentary water, and highly individualized service. 
Enjoy chauffeur VIP service
Experience top-tier comfort and luxury with our chauffeur meet-and-greet services. We understand the importance of building relationships, and our team of chauffeurs and drivers is ready to help enhance your experience during your reservation. 
Increased convenience
We understand that life happens. When unexpected changes during your trip arise, our team will adapt to those as best we can to ensure you have the best experience possible. 
Types of group events to hire luxury group transportation for
Whether you're on a family vacation or are traveling for a corporate event, Presidential's luxury group transportation in Miami is excited to offer premiere services for all your travel needs. Our team is committed to offering the highest degrees of satisfaction no matter your transportation needs. We are proud to serve our clients in a range of capacities including the following:
Business conferences

Corporate events

Airport transfers

Weddings

Group vacations

Destination exploring and much more
How to book luxury group transportation in Miami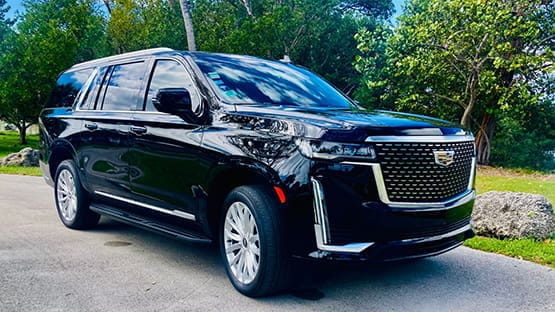 When you are ready to book your transportation reservation, Presidential has got you covered with our Miami group transportation services. Give us a call or visit us online to learn how our premier quality fleet can serve you during your next adventure.  Reserve a ride today! 
We are also pleased to be a leader in the Miami area for luxury group transportation services. Learn about our luxury group services and discover which package best fits you and your group on your next adventure. Contact Presidential today to book your next luxury getaway.
Sources:
Miami's citywide free trolley.