Airport Car Service Fort Lauderdale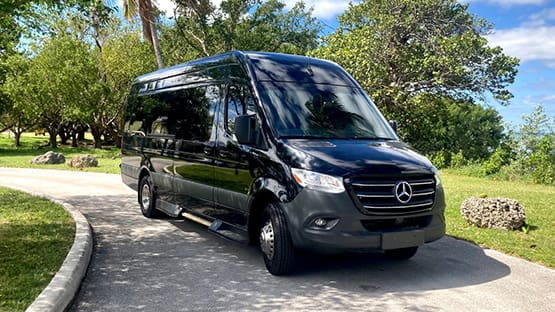 If you're looking for an elevated transportation experience to or from the Fort Lauderdale Airport, Presidential Limo has you covered. Our private car service offers stylish premium eco-friendly electric sedans and luxury SUVs, so you always arrive in style. Contact our team to learn more about our effortless high-end airport transportation options.
We'll be there — no matter what
When it comes to travel, rarely anything goes as planned. Missed connections, delayed flights, or changes in your itinerary sometimes happen. That's why our airport car service in Fort Lauderdale offers Flight Delay Assurance. Flight Delay Assurance makes sure you aren't left without a ride. Our drivers track flight changes and will always be there no matter what. That includes itinerary and flight changes too! Flight Delay Assurance includes:
Real-time flight tracking, so your driver knows exactly when you will arrive

Free 60-minute wait time for airport pickups with select ride experiences

Free cancellations up to 24 hours before your scheduled pickup time

Changes to your reservation up to 24 hours before your airport transfer
Who uses Presidential Limo car services at the Ft. Lauderdale Airport?
Streamlining your travel from home to the airport to your hotel doesn't have to be a headache. With many major airlines flying into the Ft. Lauderdale Airport, including JetBlue and Delta, you can simplify your travel and take out the extra step of rental cars, public transportation, or rideshare services. 
Whether you are flying down from the northeast or from across the country, make your journey a bit more enjoyable and let us handle your pickup when you arrive. This service is ideal for:
People needing to pick up out of town guests

Business trips

Vacationers

Conventions

Groups

Individuals
Leave in luxury. Reserve a ride today for your private car at Ft. Lauderdale Airport.
How does Presidential Limo airport car service work?
Our luxury car service, Fort Lauderdale, is convenient, clean, and accessible. We also take great pride in the fact that our sublime travel experience uses green vehicles and professional drivers to make you feel even better about using Presidential Limo car services. Here's how it works:
1. Choose your experience
Enter your location for a list of premium rides available near you. Choose between the ride on-demand option or set a reservation for a future pickup.
Our exclusive Fort Lauderdale fleet includes:
Luxe Sedan – Tesla Model Y or Lincoln Continental (seats three people)
Luxe Sedan – Mercedes Benz S550 (seats three people)
Luze SUV XL – Suburban or Escalade (seats six people)
Executive Van – Mercedes Sprinter Limo (seats 14 people)
2. Reserve your ride
Book your ride and relax. Your luxury ride and professional driver will be ready when you are. Your Fort Lauderdale or Miami car service is prepared to handle every detail so you can enjoy your day.
Save the headache and book Fort Lauderdale's best airport car service today!
Book your airport ride with Presidential Limo today
No matter why you require transportation, we have a style and size to meet your needs. From premium sedans to luxury SUVs, we'll make sure you get where you need to go without the stress. With easy scheduling and convenient additions such as Flight Delay Assurance, you can book with confidence and streamline your travel plans. Contact Presidential Limo today.
Sources: