Fort Lauderdale Executive Airport (FXE) Car Service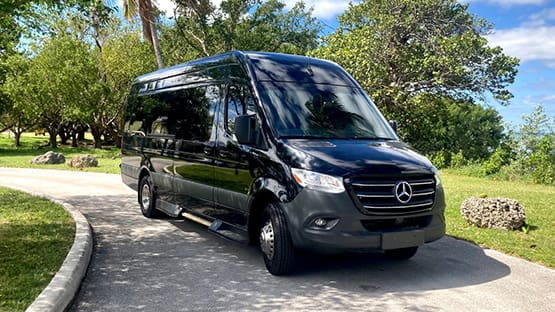 If you fly into Fort Lauderdale Executive Airport (FXE) in your own plane, a private jet, or a chartered aircraft, Presidential Limo makes airport transportation quick and easy. Our exclusive fleet of sleek electric vehicles and luxury SUVs means you always arrive at your destination on time and in style. Contact our team to learn more about our chauffeured services to and from FXE.
Book South Florida's best limo service today!
FXE Flight Delay Assurance with Presidential Limo
Travel plans are sometimes unpredictable. You may need to switch flights, deal with delays, or change your plans altogether. When this happens, you can rest assured that your Presidential Limo driver will be there — no matter what. With Presidential Limos' Flight Delay Assurance, we have you covered.
Our Flight Delay Assurance guarantee for FXE riders means: 
Real-time flight tracking, so your driver knows exactly when you arrive

Easily change your reservation up to 24 hours before your scheduled airport transfer

Guaranteed 60-minute wait time with select Presidential Limo ride pickups

Free cancellations up to 24 hours before your reserved airport pickup time
Why should you choose our private Fort Lauderdale airport car service?
Presidential Limo has combined the luxury of black car service with the convenience of the modern rideshare model into our sustainable vehicle fleet. We offer high-end transportation services for busy executives, professionals, and those who expect more from their airport transfers. Leave the hassle behind and book a stylish ride with Presidential Limo!
Our premium South Florida car service offers an elevated experience that includes:
Exceptional customer service and VIP treatment

Comfortable rides in a clean, sustainable vehicle

Professional drivers who know the South Florida area

Your choice of

zero carbon footprint electric vehicles

Concierge greeting and luggage assistance

Water and device chargers in every Presidential Limo ride

Presidential Limos' Flight Delay Assurance promise
Presidential Limo has distinguished itself from the rest of the limousine industry as a technically advanced, universally respected, customer-driven company. We provide the best Fort Lauderdale Executive Airport services. We strive to exceed your expectations in all aspects.
How do I arrange a car with Presidential Limo when arriving at FXE?
Looking for an easy airport shuttle from Fort Lauderdale? Leave the headache behind and book a personalized transportation experience with Presidential Limo:
1. Choose your ride experience
Enter your pick-up location details to see available on-demand ride experiences or book a future airport ride in the stylish vehicle of your choice.
2. Reserve your ride
Complete your Presidential Limo reservation with one of our professional drivers for the only 5-star airport transportation available from FXE. Sit back, relax, and let us do the heavy lifting.
You can contact our concierge service at 1-800-990-0417 or make a reservation online through the Presidential Limo website.
Don't drive. Arrive.  Reserve a ride today for your private Fort Lauderdale Executive Airport pickup.
Where will my car pick up and drop off at the FXE airport?
Reaching your destination in South Florida from FXE has never been easier than booking a ride with Presidential Limo. When you reserve a private car with Presidential Limo, your driver will be waiting in the ground transportation area before your plane even lands. All you have to do is find your driver, let us handle your luggage, and relax in our sleek town car.
Our exclusive Fort Lauderdale fleet includes:
Luxe Sedan – Tesla Model Y or Lincoln Continental (seats three people)
Luxe Sedan – Mercedes Benz S550 (seats three people)
Luze SUV XL – Suburban or Escalade (seats six people)
Executive Van – Mercedes Sprinter Limo (seats 14 people)
What transportation options are there from the Fort Lauderdale Executive Airport?
Because South Florida is one of the world's busiest destinations, there are several airport transportation options to get you to and from the Fort Lauderdale Executive Airport. Some available transportation choices include:
Taxi

Uber or Lyft

Rental car

Airport shuttle

Independent shuttle service

Private car service
But if you want fast, reliable transportation without the long taxi lines, rideshare waits, or crowded shared shuttles, book your private vehicle with Presidential Limo. Reserve your ride with us today for spacious, comfortable transportation that is always on time.
Book your Fort Lauderdale executive airport car service today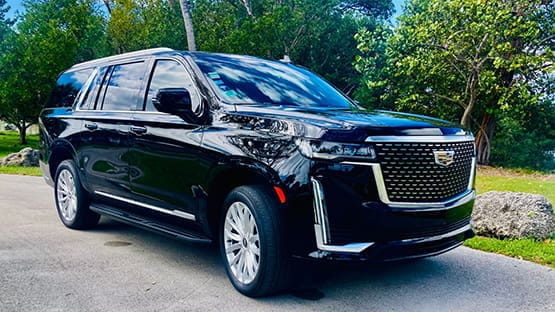 Book an airport transfer in one of our premium EV sedans or luxury SUVs for a comfortable, clean ride that you can trust. We'll take you anywhere in South Florida from FXE, including Key Largo, Miami, Palm Beach, and more. Contact our team now to reserve your ride!
Sources:
Emissions from Electric Vehicles
Fort Lauderdale Executive Airport