Black Car Service in Miami
Welcome to Presidential Limo, your premier black car service in Miami. Whether you're a local resident or a visitor to our vibrant city, we strive to provide the highest level of luxury transportation for all your needs. With our fleet of sleek and stylish vehicles, professional chauffeurs, and impeccable attention to detail, Presidential Limo offers an unrivaled experience tailored specifically for you. 
From airport transfers and corporate events to special occasions and sightseeing tours, allow us to elevate your journey with our unparalleled black car service in Miami. Sit back, relax, and indulge in the comfort and sophistication that only Presidential Limo can offer.
Black car airport service
If you're in need of Miami Airport black car service or for the Fort Lauderdale Airport, look no further than our black car airport service at Presidential Limo. We understand your time is valuable, and we are committed to providing a seamless and luxurious experience from the moment you step off the plane or leave your doorstep.
Our professional chauffeurs will greet you with a warm smile, assist with your luggage, and whisk you away in one of our meticulously maintained black cars. Forget about navigating traffic or searching for parking. We'll handle all the logistics so you can focus on enjoying a stress-free journey. 
With our reliable and punctual service, you can trust us to get you where you need to be on time, every time. Whether you're a busy executive, a frequent traveler, or simply looking to add an extra touch of class to your journey, our black car airport service is the epitome of luxury and convenience. Let Presidential Limo take care of all your transportation needs for a truly elevated travel experience.
Have questions about your Miami luxury airport transfer reservation? Contact us today.
Black car seaport service
Are you embarking on a cruise vacation from the beautiful Port of Miami or Port Everglades? Take advantage of our exquisite black car seaport service at Presidential Limo. We understand the start and end of your cruise experience should be just as memorable as the voyage itself. Our dedicated team is committed to providing a seamless and luxurious journey, ensuring you arrive in style and comfort.
From the moment you are ready to leave home, be picked up at your hotel or one of the airports, or step off the ship, our professional and friendly chauffeurs will be there to greet you, welcome you into your car, and load your luggage. 
Forget about hassling with traffic, parking, or coordinating multiple vehicles. Our seaport luxury black car service takes care of all the logistics so you can focus on enjoying your cruise adventure to the fullest. At the port, your driver will unload your luggage and assist you in any way possible to make the start of your cruise vacation memorable.
Whether you're traveling solo, as a couple, or with a group of friends and family, our spacious and luxurious vehicles ensure a comfortable ride for everyone. Indulge in the ultimate travel experience as we chauffeur you in style to and from your cruise terminal. 
Our commitment to exceptional service means we prioritize punctuality and strive to make your journey stress-free and enjoyable. We take care of every detail, ensuring your cruise vacation starts and ends on a high note. When you return from your cruise, your driver will be waiting to pick you up as soon as you disembark the ship and take you home or to a hotel or one of the airports. 
Black car private service
Presidential Limo's black car private service is the ultimate choice when it comes to private transportation with an unrivaled level of luxury and sophistication. Whether you're attending a special event, need corporate transportation, want to spend the day shopping, a night out on the town, or simply desire a premium travel experience, our dedicated team of professionals is here to cater to your every need.
We understand that privacy and personalized attention are essential when traveling in style. Our Miami car service lets you enjoy a secluded and exclusive journey explicitly tailored to your preferences. When one of our drivers picks you up, you will be immersed in exceptional personalized attention, comfort, and elegance.
Our professional chauffeurs are highly trained in discretion and impeccable customer service, ensuring your privacy is respected, and your every need is met. Whether you're heading to a business meeting, a red-carpet event, or a romantic dinner, our chauffeurs will navigate the streets with expertise and efficiency, ensuring you arrive at your destination safely and on time.
Our black car private service goes above and beyond to exceed your expectations. From luxurious amenities inside our vehicles to personalized itineraries designed specifically for you, we strive to create an unforgettable experience that reflects your unique tastes and preferences.
Experience the pinnacle of exclusivity and indulge in Presidential Limo's black car private service by letting us elevate your transportation needs to new heights of luxury.
Where to stay in Miami?
Miami offers a wide range of accommodation options to suit different preferences and budgets. Here are a few popular areas and neighborhoods where you can find great places to stay:
Miami Beach:

Known for its vibrant nightlife, beautiful beaches, and iconic Art Deco architecture, Miami Beach is a top choice for visitors. The area offers luxury hotels along Ocean Drive and Collins Avenue, as well as more affordable accommodations further inland.

South Beach:

Located within Miami Beach, South Beach is famous for its energetic atmosphere, trendy restaurants, upscale shopping districts like Lincoln Road Mall, and stunning beachfront properties

Downtown Miami:

If you prefer a more urban feel with easy access to cultural sights like the Pérez Art Museum Miami and the Adrienne Arsht Center for the Performing Arts, consider staying in downtown Miami. This area offers an array of modern hotels, luxury high-rise vacation homes, and convenient access to popular attractions.

Brickell:

Known as Miami's financial district, Brickell is a bustling neighborhood with a sleek and sophisticated ambiance. It's renowned for its luxury condos, upscale dining options, trendy bars, and proximity to attractions like the Brickell City Centre shopping mall.

Coconut Grove:

Offering a more bohemian vibe, Coconut Grove is Miami's oldest continuously inhabited neighborhood. It features lush parks, charming streets lined with boutiques and cafes, as well as luxurious waterfront hotels and resorts. The area is known for its relaxed atmosphere, marinas, and the iconic CocoWalk shopping center.

Key Biscayne:

For a more tranquil and exclusive experience, consider staying in

Key Biscayne

. Located on an island just south of Miami Beach, this upscale residential neighborhood offers beautiful beaches, upscale resorts, golf courses, and easy access to Bill Baggs Cape Florida State Park.
Ultimately, the best place to stay in Miami depends on your preferences and what you plan to do during your visit. Each neighborhood offers its own unique charm and attractions that cater to different interests.
What to do in Miami, Florida?
Miami offers a wide variety of activities and attractions to suit every taste. Some popular things to do in Miami include:
Hit the beaches:

Enjoy the sun, sand, and beautiful turquoise waters at iconic beaches like South Beach, Crandon Park Beach, or Haulover Beach Park

Explore Art Deco District:

Take a stroll through Miami Beach's famous Art Deco Historic District and admire the vibrant pastel-colored buildings from the 1930s and 1940s

Visit museums:

Immerse yourself in art and culture by visiting renowned museums such as Pérez Art Museum Miami (PAMM), the Institute of Contemporary Art (ICA), or the Vizcaya Museum and Gardens

Enjoy outdoor activities:

Take a walk or rent a bike along the

scenic Miami Beach boardwalk

, go kayaking or paddle boarding in Biscayne Bay, or explore the Everglades National Park for an unforgettable wildlife experience

Indulge in cuisine:

Miami boasts a diverse culinary scene influenced by Latin American, Caribbean, Cuban, and international flavors. Explore popular neighborhoods like Little Havana for authentic Cuban cuisine or Wynwood for trendy restaurants and cafes.

Shop til you drop:

Discover high-end boutiques in areas like Bal Harbour Shops and the Design District or enjoy discounted shopping at outlets like Sawgrass Mills Mall

Experience nightlife:

Miami is renowned for its vibrant nightlife. Enjoy world-class clubs, bars, and lounges in areas like South Beach, Brickell, or downtown Miami.

Catch sporting events:

Watch professional sports teams such as the Miami Heat (NBA), Miami Dolphins (NFL), Miami Marlins (MLB), and Florida Panthers (NHL) compete live at their respective stadiums

Explore Little Haiti and Little Havana:

Immerse yourself in the local culture by visiting these vibrant neighborhoods known for their lively atmosphere, authentic cuisine, music venues, and colorful street art

Take a boat tour:

Discover the city's stunning waterfront and celebrity homes on a boat tour around Biscayne Bay or enjoy a cruise to nearby islands like Key Biscayne or the Bahamas

Attend festivals and events:

Miami hosts numerous events throughout the year, including Art Basel Miami Beach, Ultra Music Festival, Miami International Boat Show, and the South Beach Wine & Food Festival

Relax in gardens and parks:

Enjoy peaceful moments at Fairchild Tropical Botanic Garden, visit the serene Venetian Pool in Coral Gables, or explore scenic parks like Bayfront Park or Matheson Hammock Park
These are just a few of the many things to do in Miami. With its diverse offerings of culture, cuisine, outdoor activities, shopping opportunities, and lively entertainment options, there's always something exciting happening in this vibrant city.
What is Miami known for?
Miami is known for several things that contribute to its vibrant and unique identity:
Beautiful beaches:

Miami's stunning beaches, particularly South Beach, are famous worldwide for their white sand, crystal-clear waters, and lively atmosphere

Art Deco architecture:

This architectural style from the 1930s and 1940s has become an iconic symbol of Miami

Latin American culture:

Miami is often referred to as the "Gateway to Latin America" due to its large Hispanic population. It boasts a rich cultural heritage influenced by Cuban, Venezuelan, Colombian, and many other Latin American cultures. This is evident in the cuisine, music, dance, and vibrant street life throughout the city.

Nightlife:

Miami's nightlife scene is legendary. From glamorous clubs and rooftop bars to beachfront parties and live music venues, the city offers a diverse array of entertainment options that attract locals and tourists alike.

Art and design:

Miami has emerged as a thriving hub for art and design. The city hosts international art fairs and boasts numerous galleries, museums, and public installations that showcase contemporary art from around the world.

Sports culture:

Home to multiple professional sports teams, Miami has a passionate sports culture that attracts dedicated fans and provides thrilling sporting events

Boating and water activities:

With its prime location on the coast, Miami is a haven for boating enthusiasts. The city offers opportunities for fishing, yachting, water sports, and exploring the beautiful Biscayne Bay.

Multicultural diversity:

Miami is known for its cosmopolitan atmosphere and diverse population. People from all over the globe have made this city their home, leading to a blend of cultures, languages, cuisines, and traditions that contribute to its vibrant multicultural identity.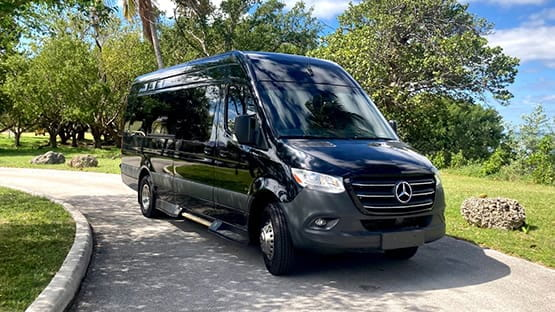 These aspects combine to make Miami an internationally recognized destination with a unique blend of sun, sea, culture, and entertainment. It is easy to enjoy everything Miami has to offer by leaving the driving to Presidential Limo, so you can ride in style and never worry about having a designated driver to get you safely home or back to your hotel. 
Sources:
Art Deco Historic District, Miami Beach: What to See & Do and Where to Eat, Drink & Stay. (2023). 
Key Biscayne. (2023).
Miami Beach Boardwalk. (2022).