Private Car Service in Miami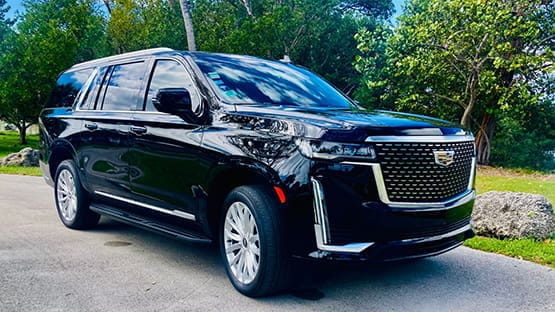 Experience the epitome of luxury and convenience with our private car service in Miami, featuring professional drivers, eco-friendly options, and a fleet of sophisticated vehicles, including Teslas and Mercedes.
Whether you're heading to the Miami International Airport, Miami Executive Airport (TMB), or Port Miami cruise terminals or simply exploring the city in style, our limo and sprinter vans are ready to elevate your transportation experience.
Why you should choose a private car service
When it comes to private car services in Miami, there are several compelling reasons why you should choose Presidential Limo.
With our luxurious fleet of vehicles, including stylish sedans and spacious SUVs, we offer unparalleled comfort and elegance for your transportation needs.
Private car services are dependable
Firstly, our reputation for dependability is unrivaled. Whether you're heading to Miami Executive Airport or Miami International Airport, you can count on us to get you there on time every single time.
It's easy to book and ride with us
Our service is also incredibly easy to use. With just a few clicks, you can book a luxurious ride to pick you up from your location and drop you off at your desired destination.
You can commute in luxury and style
When it comes to luxury, our fleet of sophisticated vehicles is truly unmatched. Picture yourself gliding through the city streets in a sleek black car, turning heads as you arrive at your destination in style.
Or perhaps you prefer the timeless elegance of an exquisite limousine, where every detail is meticulously crafted to provide the utmost comfort and opulence. Whatever your preference, we offer a wide range of high-end options to cater to your every need.
It's private and secure
We understand the paramount importance of privacy. Whether you're embarking on a business trip or indulging in a leisurely getaway, rest assured that we hold your privacy in the highest regard.
Our commitment to providing a discreet service ensures that your personal space and tranquility are thoroughly respected throughout your entire experience with us.
Ready to ride in style? Reserve a ride today.
We're here for your business needs
Presidential Limo is dedicated to catering to your business needs in Miami with:
Premier private car services for business travelers at the Miami Executive Airport (TMB)

Convenient and luxurious transportation options at the Miami International Airport

High-end client transportation services that leave a lasting impression
Presidential Limo's exclusive private car services in beautiful Florida will leave a lasting impression on your esteemed clients with our unparalleled transportation solutions.
Leisure travel at your beck and call
Private car service Miami style doesn't have to be all about work. We're here for your special events as well.
Travel
We provide luxury travel options for all your special occasions, from anniversaries, birthdays, and wedding proposals to family reunions and romantic getaways. Our airport transfer services offer the perfect balance of comfort and convenience so you can start your vacation on the right foot.
Miami International Airport transportation:

Enhance your travel experience with our premier private car service

Port Miami:

Simplify your cruise journey with our convenient transportation to and from the terminal
Both of these options provide you with reliable transport and impeccable service.
Nightlife
Experience a stress-free night out with Presidential Limo's reliable and luxurious transportation. Whether you're headed to the hottest nightclubs in town or visiting a unique boutique bar, rest assured we'll get you there safely and comfortably.
Special occasions
Celebrate in style and comfort with our specialized services.
Parties:

Elevate your party experience with Presidential Limo's professional transportation

Weddings:

Ensure your guests' comfort and punctuality with our dedicated wedding transportation service
Group transport
Traveling with friends, loved ones, and colleagues is always more fun with the right luxury charter vehicle. Whether you're headed to a special occasion or simply exploring the city, our limos and sprinter vans are ready to help make it memorable.
Explore our group transportation options, including escalades and sprinter vans, for a seamless travel experience.
Download our app to start your booking.
Why you should choose Presidential Limo
In Miami's highly competitive private car service market, Presidential Limo stands out for several reasons:
Experienced professional drivers:

Our drivers are not just skilled but also exhibit the highest levels of professionalism. They are familiar with the ins and outs of the area, ensuring a smooth ride to your destination.

Reliable drop-off and pick-up:

Getting airport timing just right can be tricky. We make sure you get to the airport on time and without stress.

Our luxury vehicle fleet:

Our fleet includes high-end vehicles like Tesla and Mercedes models, promising a luxurious travel experience. For larger groups, we offer sprinter vans that combine comfort and capacity.

Eco-friendly options:

We're committed to reducing our carbon footprint. That's why we offer eco-friendly transportation options, including our fleet of Tesla vehicles.
Our team promises to deliver a safe, comfortable, and luxurious experience for all your private car needs.
Enjoy every moment with Presidential Limo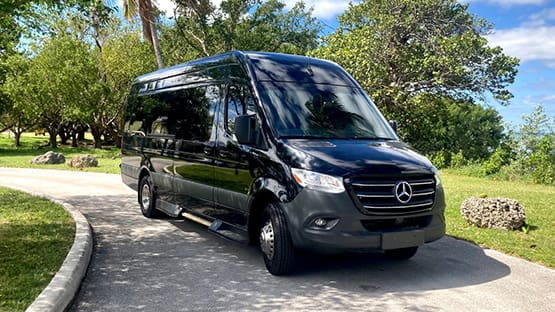 From business travel to leisure trips and special occasions, Presidential Limo is your trusted partner for all your transportation needs in Miami.
Offering unrivaled luxury, professionalism, and reliability, we ensure an unforgettable travel experience that prioritizes your comfort and privacy.
Our diverse fleet of high-end vehicles, coupled with our commitment to eco-friendly practices, sets us apart from other options in the area.
Ready to experience the Presidential Limo difference? Don't wait any longer. Book your ride today and get ready to travel in luxury, style, and comfort.
Sources:
Miami Executive Airport (TMB).
Miami International Airport.