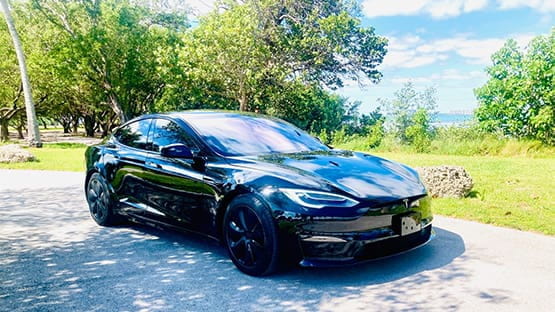 Navigating your way from Fort Lauderdale Airport to Miami can be a daunting task, especially after a tiring flight.
That's where Presidential Limo comes into the picture.
We'll explain why hiring a chauffeur car service, specifically Presidential Limo, can transform your travel experience into a seamless and luxurious journey.
From convenience to comfort, we'll delve into the many reasons why this choice is smart for travelers.
How far is Miami from Fort Lauderdale?
The distance between Miami and Fort Lauderdale is approximately 28 miles (45 kilometers). The journey typically takes about 35-40 minutes by car, depending on the exact start and end points of your trip.
When you factor in traffic, your commute may take much longer. Some events or holidays can congest the roads, prolonging your travel time.
You'll also want to factor in weather conditions. Even in the sunny paradise of Florida, it's common for rain showers and thunderstorms to surprise drivers and cause chaos on the roads.
Make sure to check local weather conditions to know how the weather is affecting the road.
How to get from Fort Lauderdale to Miami?
There are several transportation options available to get you from Fort Lauderdale to Miami.
These include:
Buses

Trains

Driving

Shuttles

Rideshares

Hiring a private car service
Each option has advantages and considerations, like cost, convenience, and travel time. However, for a seamless and comfortable experience with Miami transportation, many travelers opt for a luxury chauffeur car service.
Have questions about your Miami luxury airport transfer reservation? Contact us today.
Comparing transportation costs
Let's break down each of the specific costs associated with popular modes of travel:
By car
As of today, the national average gas price in the United States is currently around $3.83 per gallon.
Given that the distance between Fort Lauderdale and Miami is roughly 28 miles, and considering a car with an average fuel efficiency of 25 miles per gallon, you'd need approximately 1.12 gallons of gas for a one-way trip.
This means that if you choose to drive, the cost in terms of gas would be approximately $4.29.
While driving provides a lot of flexibility when commuting between Fort Lauderdale to Miami, it can be stressful or challenging if there's stress. It's also not ideal for those who don't know the area.
Public transportation
Public transit is the most economical option, with a one-way bus ticket costing around $4 and a regional train ticket costing around $6.75.
However, this method can be time-consuming and less convenient, especially if you have luggage or are traveling in a group.
Chauffeur services
On the other hand, hiring a private car service in Fort Lauderdale like Presidential Limo can provide the most comfortable and hassle-free experience.
While the cost is higher, with rates from $80 per hour depending on the type of vehicle and service, it includes door-to-door service, a professional chauffeur, and the peace of mind of a pre-booked ride. Plus, you won't have to worry about navigating traffic or finding parking.
How much is an Uber from Fort Lauderdale to Miami?
According to Uber's route price estimates, the cost of an Uber trip from Fort Lauderdale to Miami can vary significantly — the average fare ranges from as low as $37 to as high as $105.
This broad range accounts for different factors including the specific start and end points of your trip, the time of day, the level of demand, and the type of Uber service you choose, ranging from:
UberX

Comfort

UberXL

Uber XL Share
For instance, a ride from Fort Lauderdale-Hollywood International Airport to Miami Beach tends to cost between $55 and $96. In comparison, a trip from the same airport to the Port of Miami is usually priced between $49 and $93.
If you're traveling from Miami International Airport to Fort Lauderdale, you can expect to pay between $59 and $100.
Keep dynamic and surge pricing in mind
Therefore, while Uber can be a convenient option, it's important to remember that prices can fluctuate based on various factors and can sometimes approach or even exceed the cost of more luxurious options like a private car service.
Surge pricing is another factor to consider, which can increase your fare significantly during times of higher demand. This usually happens on holidays and during special events. The rush hour also tends to produce surge pricing.
Advantages of hiring a private car service
Opting for a private car service like Presidential Limo for your trip from Fort Lauderdale to Miami brings not just luxury but also comfort, convenience, and peace of mind.
Unlike taxis or rideshares, you can ride in a luxurious vehicle maintained to high standards. You'll be driven by professional chauffeurs who are experts at safe driving and route navigation, ensuring a smooth journey.
The convenience of scheduling your ride as per your needs, along with door-to-door service, saves you from the hassles of parking and navigation. It's a stress-free option, as you know your transportation is sorted, allowing you to relax and concentrate on your trip.
Moreover, there's no waiting around for a taxi or rideshare; your car is punctually ready when you need it, saving you valuable time.
Why you should choose Presidential Limo
For travelers looking for a luxurious and seamless experience when traveling from Fort Lauderdale Airport to Miami, the choice is clear: hire Presidential Limo.
We understand the needs of our customers and strive to provide an impeccable experience from the moment you book your trip until you arrive at your destination.
Our fleet includes high-end vehicles ranging from sedans to SUVs, all including complimentary water for a comfortable journey.
Moreover, our professional chauffeurs are all trained in defensive driving techniques to ensure a safe journey. They are also well-versed in local routes and traffic regulations, so you can rest assured that your trip will be efficient and worry-free!
Highlighting Presidential Limo's fleet
Presidential Limo takes pride in its luxurious fleet of high-end vehicles, each designed to provide an unparalleled travel experience.
Our collection includes the Mercedes Sprinter Limo, Mercedes Benz S550, and Tesla Model Y, all chosen for their exceptional comfort, style, and performance.
Mercedes Sprinter Limo:

This vehicle combines the luxury of a limousine with the spaciousness of a van. It offers ample legroom, comfortable seating, and a range of top-tier amenities, making it perfect for group travel or special occasions. It's equipped with modern entertainment systems for an enjoyable ride, and its sleek design ensures you travel in style.

Mercedes Benz S550:

Known for its elegance and sophistication, the Mercedes Benz S550 is the epitome of luxury travel. The plush interiors, advanced safety features, and smooth ride make it an excellent choice for business travelers or couples seeking a luxurious experience. It's more than just a car; it's a statement of class and refinement.

Tesla Model Y:

As an electric vehicle, the Tesla Model Y offers a unique blend of sustainability and luxury. Its cutting-edge technology, combined with its stylish design and spacious interiors, provides a smooth and eco-friendly travel experience. It's quiet, efficient, and ideal for those who value both comfort and environmental responsibility.
No matter which vehicle you choose, rest assured that when you travel with Presidential Limo, your ride will be a luxurious and memorable experience.
Understanding Miami transportation with Presidential Limo
Do you have a few more questions about how our chauffeur service works? Here are some of the most common inquiries:
What are the energy/fuel surcharges?
These are additional costs related to the fluctuating prices of fuel. The exact amount may vary depending on current market conditions.
How is the 20% STC calculated?
The sales transportation charge (STC) is a percentage of the base rate and is a standard charge in the transportation industry.
What if I forget to request a child/booster seat at the time of booking?
We recommend notifying us as soon as possible if you need a child/booster seat. While we'll do our best to accommodate last-minute requests, availability cannot be guaranteed without prior notice.
Are there any other hidden charges?
Presidential Limo believes in transparency. All potential charges are disclosed upfront. However, any additional services requested during the ride could incur extra costs.
Our rates and policies
Here's a quick overview of our service rates and policies:
Rates:

Please note that our quoted rates do not include a 20% gratuity, a 20% sales transportation charge (STC), and any energy or fuel surcharges. These will be added to the total cost.

Parking and tolls:

Any parking fees or toll charges incurred during your journey will be added to your final bill

Child/booster seats:

We can provide child/booster seats upon request for an extra fee. However, it's important to note that the installation of these seats is the responsibility of the parents, not the chauffeur.
Our goal at Presidential Limo is to provide a smooth, stress-free transportation experience in Miami. We strive to be clear and transparent about our rates and policies and are always here to answer any questions you might have.
Ride in luxury with Presidential Limo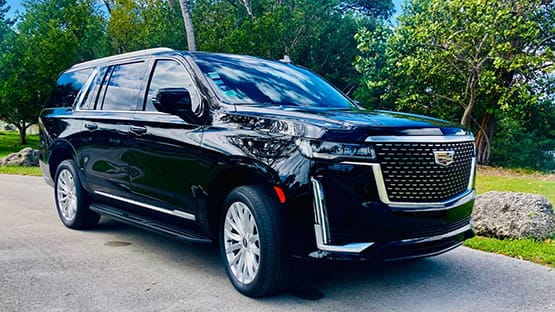 In summary, Presidential Limo is more than just a transportation service in Miami — we're a promise of luxury, comfort, and convenience. With our diverse fleet of high-end vehicles and transparent pricing policy, every journey becomes an unforgettable experience.